Gas Giants
fun fun fun .
well if you have searched this forum then you probably seen some very old posts from 2002 and 3
there was a , at the time new , now 8 years out of date program to make these
-- this is a dead and abandoned program with NO SOURCE CODE ---
"PlanetTextureGen_v2.zip" 13.3 MB
http://www.zshare.net/download/80662785fa11cf5e/
the above link is dead - Zshare moved out of the US of A to avoid the US DOJ from ILLEGALLY seizing the servers like the DOJ IS doing to MegaUpload
PLEASE READ the "NewREADME" text file in the zip
--excerpt
The output

IS NOT

a simple cylindrical map

as you move farther from the equator it DOSE NOT re map !!!!!
the orig is here
http://bruckner.50megs.com/Download/Pro ... erator_v2/
also a dead link
you need both parts and use lxsplit( or the windows version hjsplit ) to join the two back together.
it was built for Windows XP and XP service pack 1
however it did work on xp sp3 and Windows 7 64 bit ( with full 32 bit compatibility )
vista ? unknown and win7 basic ???? unknown
openSUSE 11.3 64bit - wine 1.2 works ?? but something that takes 45 sec to 1.5 min on windows takes 30 to 45 min running in wine 1.2
-- the reason it uses "GfaWin23.ocx" BASIC and using Wine --
so Gimp -
the Gimic plugin should be installed http://gmic.sourceforge.net/gimp.shtml
run gimp and create a BLANK "new image" of 4096x2048 or a big 8192x4096
now there a few ways to get a BASE image of horizontal lines
1) filters/render/patterns/sinus
set x-scale to 0 ( or 0.0001)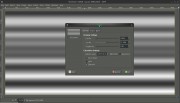 2) filters/render/clouds/Difference-clouds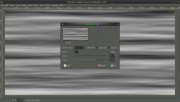 these two have NO storms yet
there are other ways so experiment and have fun ,the two plugins are installed by default
like the "resize " way
start with the Jupiter map ( mine is 4096x2048 )
crop someplace on it a section that is 2 x 2048
ad a small 3 px Gaussian blur
resize that crop to 4096x2048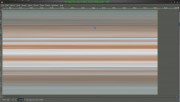 you can do that to any map in celestia
the second one is the one i like ,although it IS NOT a simple cylindrical projection and will not yet remap correctly YET - it still needs work
as you did in the rocky planet crop the north and south , remap to polar using the gimp "polar distort"
i am using a crop of 4096x1124 - resize to 4096x2048 and remap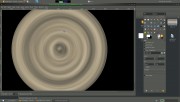 now on this one the "pinch" is not bad so you can use the "heal" tool that is part of the NEW gimp 2.6 or 2.6.4 and up . the crossed "band-ads"
on the toolbox
now some storms - this is 100% artistic so have some fun and experiment
just compare it to REAL images of Jupiter and Saturn, Uranus, Neptune .That way you stay close to the real thing
I am using the G'mic "spread noise" tool to start at the default setting
/filters/Gmic/Degradations/Spread noise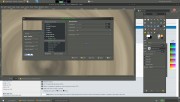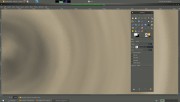 now there is a bit of noise at the divisions of the bands , it is very important you do this in polar projection
to add storms , there is a built in plugin called "iwarp"
filter/distorts/iwarp
this is a very time consuming part and takes a lot of practice
for better control use the rectangular select to select a small area and run the filter on that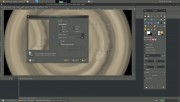 the north remapped back to simple cylindrical
- to do --
cont. from gimp
plugins needed
reference the "polar pinch"
reference the "colorizing page"
Examples of "PlanetTextureGen_v2" with post processing in gimp are
Gliese 581 / f
Gliese 876 / b
Gliese 876 / c
Gliese 876 / e
-- addon 581
http://celestiamotherlode.net/catalog/s ... on_id=1561
-- addon 876
http://celestiamotherlode.net/catalog/s ... on_id=1558